Coding Pane
The Coding Pane can display the following topics:
Coding
Contains the categories and tags used by reviewers to apply coding to the document. Check boxes appear when multiple items can be selected. Radio buttons indicate only a single item can be selected. Depending only their user permissions, reviewers can apply different Coding Profiles (Manage > Review > Coding Profiles) to use different coding fields. For more information, see Coding a Document.
Attributes
Additional options to group documents, such as Lists, Productions, or any Custom attributes (one or more may be selected).
Note: These are usually only used by administrators, as reviewers will use the Coding section for most of their work.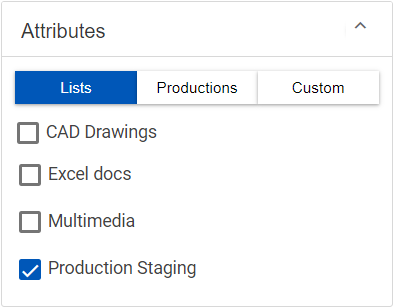 Related
Displays documents related to the current document.
Current type: Select to view documents that are:
Family: Part of a family (such as "email and attachment" or "zip file and its contents").
Duplicates and NearDups: Duplicates or near duplicates of other documents in the repository.
Threads: Part of an email thread.
Documents: Double-clicking a document IDs in the list opens the document in an external viewer within a queue for the items in the current type.
Available types: Summarizes what related items exist for the document (In the example below, there are two family members (F(2)), two duplicates (D(2)), two near duplicates (F(2)), and two threads (T(2)).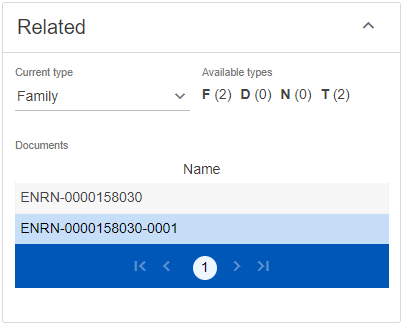 Fields
Displays all available metadata fields available for the document.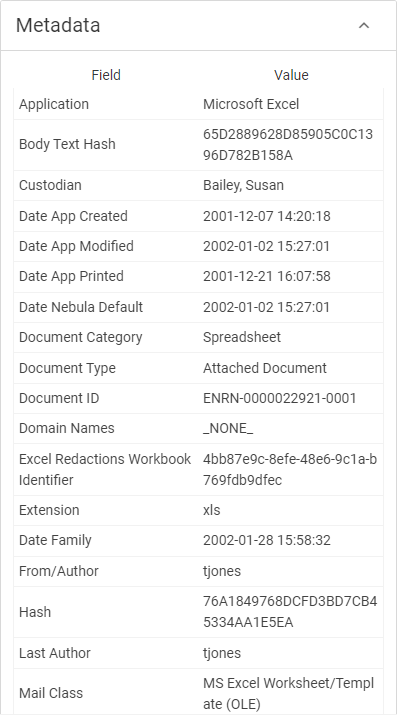 Productions
Lists the start and end production numbers along with the production(s) volume name.
Note: Only appears on documents that have been produced.
Keywords
Displays keywords found in the document, if any have been run in the Review > Keyword Reports page. Keywords are highlighted in the Text and HTML view the document. For more information, see Keywords (Review).
Redactions
Provides a table displaying the pages with redactions and the number of redactions presenton that page.
Note: Only appears when redactions are added and does not apply to native spreadsheet redactions.
Highlights
Provides a table displaying the pages with highlights and the number of highlights present on that page.
Note: Only appears when highlights are added.
Notes
Adds notes to a document. Notes can have their privacy settings changed between Public, Firm, and User. For more information, see Applying Notes to a Document.